Safety activities are both fun and practical, helping children gain an understanding of safety precautions. It's never too early to start teaching an individual how to react, communicate and cooperate in times of need.
Kids who participate in safety activities learn how to pinpoint problems and how to come up with solutions. They will learn how to use their mind and body in case of emergency, and the value of responsibility.
Types of Safety Activities
Story-telling. Children love stories, so making them listen to useful information "packed" in a way that they will enjoy is a great idea. After finishing telling the story, you can ask questions and test their comprehension.
Quizzes and games.
Coloring pages.
Art contests.
Family involvement.
Community service (for older kids). Middle and high school students can teach preschoolers about safety, both parties having a lot to gain. By doing so, the older students act as role models, while the younger schoolers are exposed to vital information.
5 Fun Safety Activities for Preschoolers
1. A Day with the Firefighters
Call the local fire station and arrange an activity with the firefighters. It can either take place at the fire station or another location. Explain to the chief firefighter the importance of this fire safety activity and it will surely be arranged. Have the firefighters talk about their jobs, the problems that they usually encounter and what steps we need to take to prevent accidents. Ask them to provide information about home safety so that the kids are well aware of the consequences of their actions.
After the firefighters' visit, you can ask the children what they thought about the gathering. They can draw or write what they understood, and you can ask questions to test their listening attention.
2. Calling 911
Children as young as 3.5 years can be taught to dial 911. It is crucial you integrate this safety activity into their routine. In some emergency situations, it's our children that must make the vital call. Such is the case of the fire, a parent's or a caregiver's illness, an accident, or other situations.
First, you need to teach the child how to recognize the number. It may take time to engrave the information into their minds, so be patient. If your kid gets bored, take a break.
Have the child know that 911 is an emergency number and they should call otherwise. Tell the kid what are emergencies, and if they are old enough to read, you can write down a list.
Tips:
Use tracer pages to create a page with 911 or your mobile phone number.
Make a 911 banner and display it near the phone.
Place a sticker with 911 on the phone case.
3. School bus safety
This is one of the safety activities that that help children comprehend and discuss the issues associated with riding a school bus or any type of vehicle. Simulating how they ride a vehicle in a safe manner will also develop the kids' social and language skills.
This is quite a fun activity, as the children will enjoy making they own unique school bus. You need a few things before getting started:
A few chairs;
A few seat belts;
A steering wheel or something similar;
A large appliance box.
Cut the box to make room for the "doors" and place the chairs in. First, demonstrate the correct way to enter a vehicle safely and how to put on a seat belt. Invite the young ones in the "car" and attach the seat belts. While in the "car", you can recite poems or sing travel songs as a way to make the whole experience more pleasant and relaxing.
Then, have the children show what they have learned from you. Have them place the seat belt on their own or have them bring a doll and secure the seat belt for it.
Other matters that must be discussed are: why we should not be standing while riding a vehicle, why we must not leave the seat while the car is still moving, or why it is important to listen to the driver's instructions.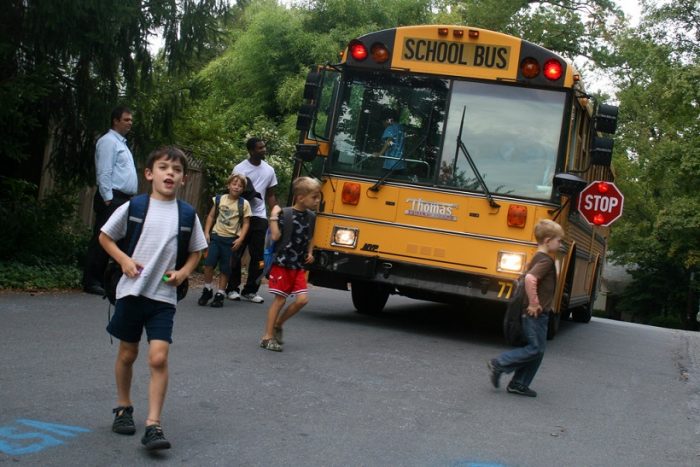 4. Stop, drop, and roll
This is yet another fire safety activity that is taught to people of all ages. It is a good way to develop the child's gross motor skills. Before hands, talk with the kids about the precaution measures we must all take to keep ourselves safe from danger. Don't be too graphic about the consequences because children can get too scared.
This technique involves three steps that a person must do in case of fire:
Cease any movement;
Drop to the ground, covering their face with their hands;
Roll on the ground to extinguish the fire.
You can teach the kids these actions in a fun way. Take them outside if the weather allows and bring a device to play music. Turn on the music and practice the drop and roll with them a few times. Children will enjoy the exercise, and they'll learn a crucial technique in the process.
Gather them around and let them know what the "stop, drop, and roll" technique is used for. Explain why we must go through all these steps to prevent getting burned in case of an emergency when our clothes catch fire.
This activity can be combined with others, such as learning how to dial 911 for help.
5. Poison prevention
Young ones are curious by nature, and they will always see things that may appear tempting but in reality, they are dangerous substances. Cleaning products or certain medicines are easily reachable by kids, and we must teach them what they are for and why they should stay away from these items.
Children as young as three can learn what is safe and what is not. They are capable of recognizing uneatable, dangerous products by sight. This is why we must take advantage of their clever minds and teach them how to prevent an accidental poisoning event. Instruct children to ask an adult first if it is OK to consume an item.
A good way to teach your kids what is unsafe is to mark dangerous products with the letter X. Then, have your children draw Xs on the products they feel are unsafe. It's a good way to test their understanding and teach them responsibility.