You may have heard of disaster relief organizations and disaster recovery before, but don't really know what these terms refer to or how they are different. Our guide on disaster relief organizations will help you understand what they do better, and then proceed to present these top organization in detail and give you extra links and resources you may need. This way, you can find out more about how you can maybe become a volunteer within these organizations, or find out more about your options and how to call for emergency help whenever disaster strikes your community. First of all, let's take a deeper look at what disaster relief is.
When disasters occur, either from natural causes (hurricanes, tornados, floods, and so on) or human-engineered ones (like terrorist attacks, disastrous cyber-attacks, etc.), specialized teams are ready to intervene and help people come back from these disruptions. There are two main sides to organized response to disastrous events: disaster relief and disaster recovery. Disaster relief refers mainly to interventions from authorities and humanitarian organizations, in order to help the people and communities get medical care, food and shelter, as well as return to their previous state as fast as possible.
What Does a Disaster Relief Organization Do?
Disaster relief work, also known as emergency management, refers to the work and interventions required to help communities recover from disasters. This type of activity requires two main lines of work:
Creating plans through which a community can reduce their vulnerability to disasters, plus making some prevention and preparedness work;

Intervening in communities hit by disaster and handing out disaster relief help according to the main priorities which occur, plus helping the community get back on its feet and preserving its livelihood post the unfortunate event.
A small part of emergency management work also targets the protection of businesses, although there are also disaster recovery companies which specialize in this, on a smaller scale. Emergency management services for businesses target especially those vital businesses that contribute to a country or area's overall infrastructure, the kind of companies which, if they fail, could also negatively impact the life of the community. In this broad sense, some disaster relief organizations who deal with helping businesses get back on their feet include the UN (United Nations), the WB (World Bank) and even some governmental macro-organizations like the EU (European Union).
Up until that very high level, though, there is a myriad of small and medium level disaster relief organizations, some of them governmental and some of them non-governmental. In many of these, there are professionals working within them (usually at a management level), and there are also plenty of volunteer workers activating as well. A large part of sustenance for these organizations resides in donations from supporters, as well as this large chunk of volunteering work.
Top 10 Disaster Relief Organizations
Now that we covered a bit more about what disaster relief organizations are and the type of work they do, the best way to further this understanding is to present a few of the top organizations. Here are our top choices in this field and why.
1. FEMA's Emergency Management Institute
The Emergency Management Institute from FEMA (the Federal Emergency Management Agency) is one of the most important institutions in the U.S., when it comes to disaster relief organizations. While FEMA itself is the agency that activates within disaster relief and organized well-coordinated and governmental backed actions, its institute is the one that trains the best experts and professionals in the field. Basically, most of the successful disaster relief organizations in the U.S. are probably being operated by professionals who have been trained at this institute. They are responsible for preparing the absolute pros for saving the day when things take a wrong turn; what could be more impressive than this? Therefore, FEMA's Emergency Management Institute definitely deserves the first place in our top of disaster relief organizations.
2. The Red Cross
Everyone heard of the Red Cross, and few other disaster relief organizations are probably as widely spread across the world as the Red Cross is. The American Red Cross benefits from both governmental support and a wide presence of volunteers enrolled in its ranks. In addition to disaster relief work, the organization also handles other areas of activity like collecting and distributing blood from donors, educational programs to promote safety and preparedness, support and comfort for military members and their families, etc. international development and training programs for disaster relief work etc.
Considering the large size of the Red Cross, it's worth noting that there are plenty of volunteering opportunities within it, as well as actual jobs for people who want to get involved with this line of work on the longer run. We will detail this matter more below, in the 'How to Get Involved' section.
3. The Salvation Army
The Salvation Army is one of the disaster relief organizations with a religious background, in this case, a Christian one. Originally founded in the United Kingdom, London, the Salvation Army is highly active in the United States as well, actually being one of the most responsive disaster relief organization in the country. Their fast response times are owed to their large number of members and volunteers, so mobilizing some people to assist with any emergency in almost any area of the country isn't difficult at all.
4. The Southern Baptist Convention
Another one of the religiously-influenced disaster relief organizations active in the U.S., the Southern Baptist Convention is also distinguished by its large number of members and volunteers, and therefore high responsiveness. One of their special focus areas is the preparation and distribution of food to those in need, so if you do have a penchant for cooking and helping out, maybe check out how you can get involved. They have over 65,000 trained volunteers all over the country, and officially one of the largest disaster relief organizations in the U.S.
5. All Hands Volunteers
A relatively new disaster relief organization, at least when compared to those who can truly be considered historical (like the Red Cross), the All Hands Volunteers (usually known as Hands) surely deserves the 5th place if only for its enthusiasm and energy alone. Its official tagline is 'Rebuilding Hope' and considering their emphasis on helping communities not only recover from disasters but also grow stronger and more self-reliant. If that's not enough to rekindle hope among those who just took a bad hit from events, we don't know what is. The All Hands Volunteers organization has completed 62 large projects in its 10 years of activity, with the help of 32,000 volunteers for 94 countries.
6. The Lions Club International
The Lions Club is one of the largest humanitarian organizations in the world, with active fronts in multiple areas of community help. It's not really one of the disaster relief organizations per se, for the simple reason that they activate in many other fields other than disaster relief. They also handle environmental programs, international health programs, children and youth programs, and international relations programs and so on. Their disaster relief organizations are mostly focused on natural disasters, and they are also distinguished for their Foundation which offers other disaster relief organizations grants and funds (over 50 million dollars granted so far).
7. Citizen Corps
The Citizen Corps organization is actually a national program developed by the Department of Homeland Security. It's one of the disaster relief organizations that most emphasize the importance of citizen participation for preparedness and intervention in bad events. It handles intervention and disaster relief with major citizen volunteer participation, but it also runs plenty of training programs for preparedness, intervention frames and tools, survival and rebuilding etc.
8. UNICEF
You may know of UNICEF (the United Nations Children's Emergency Fund) as mainly an international organizations that raises funds for kids and helps them, but you may have missed out on the 'emergency' part. That means that while many of the organization's programs are indeed meant to tackle non-emergency issues like literacy of abuse prevention programs, study grants and so on, there is another large part of their activity that targets emergency management. In case of disaster strikes, UNICEF intervenes to help the kids but also the families and the communities of those kids, which makes UNICEF one of the leading international disaster relief organizations.
9. The American Radio Relay League
Among all disaster relief organizations active in the U.S., the ARRL is probably the most useful in case of major disasters. It employs radio operating volunteers that can help people not only ask for the assistance they need, but also to coordinate better for all sorts of community interventions. Considering that we live in a world more and more connected to emergencies and that radio broadcasts can be accessed on any type of device currently in use, from radios to smartphones and computers and even walkie-talkies.
10. The BGCO Disaster Relief
The BGC Oklahoma is one of the most nationally active Baptist disaster relief organizations. Whatever the most recent national emergency, the BGCO volunteers successfully handle the aftermath and get involved in order to restore people's livelihoods to the state of before. The recent Louisiana floods, for example, have received the intervention of BGCO teams equipped for getting mud out of homes, as well as volunteers who handed out supplies and food to the affected communities.
How to Get Involved
If you're tempted to lend your spare time and energy to a good cause every now and then, there are plenty of opportunities to do so. You can first do a search for disaster relief organizations in your local area if you want to bolster the emergency management responsiveness of your own community, or look up the big players in this field in order to contribute to something greater. Both approaches are fine and admirable: one makes your own community less reliant on outside help should anything go amiss, while the second one gives you the opportunity of really making an impact.
For the second path, there are lists of major disaster relief organizations who could use every volunteer help they can get. Feel free to browse through this list or this list and make your decision based on the types of causes or activities they support, as well as by the local area in which they mainly run their activities. Also, don't forget to honestly think about your main skills and what you could truly help with best: perhaps you could make a better trainer than an actual doer, if you're good at teaching but not in the best physical form, for example. Or the other way around, you'll figure it out. If you need help with that, the counsellors from the disaster relief organizations you can contact will also be more than happy to describe in greater detail the type of skills they need.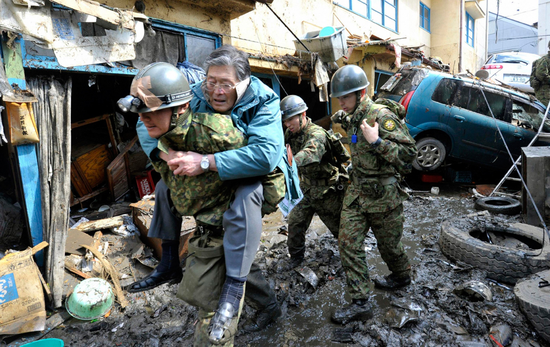 How to Get Help
For the unfortunate situation in which you will be affected by a disaster event, you can get prepared to be able to cope a little better and recover more quickly. This is what you can do in order to be better equipped for facing a disastrous event, or in order to get help to come to you faster.
First of all, you can get trained in preparedness before anything bad happens. Most disaster relief organizations offer courses and seminars on preparedness, including anything from basic medical care from survival lessons. There are even government-backed preparedness lessons for children, too, so the earlier one starts, the better.
Second of all, you will of course still require help from the authorities and whatever disaster relief organizations can reach the area you are in. In order to get help, beyond calling 911, take a look at the governmental Disaster Assistance portal and see how you can apply for receiving humanitarian assistance. You will be surprised of how people can pull through and help people in need, as well as to teach them to help themselves. Good luck, and hopefully you will never really need this info, but it's better to be safe than sorry.