How do tornadoes form and why do we fear them so much? Tornadoes are the most violent storms that our weather can produce. They occur in very large thunderstorms under specific weather conditions. The United States sees roughly 1,200 tornadoes every year. They occur most often in the spring and early summer, and the most common times for them to occur are between 4 and 9 PM.
Tornadoes during rush hour are particularly dangerous because they can catch travelers unaware in their cars. This article will answer your questions about tornadoes including "how do tornadoes form?".
What is a Tornado?
Tornadoes are measured by the Enhanced Fujita Scale. This scale is a more accurate version of the original Fujita scale, named after Dr. Ted Fujita who was a pioneer in discovering how do tornadoes form.
Tornadoes on this scale are given a rating from F0 to F5. The ratings were based on the severity and type of damage the tornado inflicts. As tornado research advanced, a panel of structural engineers and meteorologists used their collective experience with their knowledge of how do tornadoes form to improve the Fujita Scale and more accurately assess wind speeds.
The Enhanced Fujita scale has been in place since 2007 and rates wind speeds as followed:
EF-0: 65 to 85 MPH
EF-1: 86 to110 MPH
EF-2: 111 to135 MPH
EF-3: 136 to165 MPH
EF-4: 166 to 200 MPH
EF-5: 200+ MPH
An EF-5 tornado is incredibly devastating, able to destroy buildings and level well-built houses to the foundations. If you see clean slabs or foundations in the damage path of a tornado, it is likely an EF-5. EF-5s are rare, composing less than 1% of all tornadoes, but some unfortunate towns have seen more than their fair share. Moor Oklahoma suffered 2 F5 tornadoes—one in 1999 and the next in 2013.
How Do Tornadoes Form?
There was very little research to answer the question of how do tornadoes form until recently. With the development of special equipment and cars that can withstand the brute force of strong storms, intrepid storm chasers have added a wealth of knowledge to this research area over recent years.
When cold air fronts meet warm air, the accompanying storms combine to form a supercell. In this situation, warm air rises as cold air falls. If the temperature differences are extreme enough, this pattern of circulation happens so fast that it causes a tornado to appear. At this point, the answer to how do tornadoes form follows a very specific and predictable pattern:
First, the wind changes direction and wind speed increases.
As the change in wind speed increases in altitude, a horizontal spinning starts at the lower atmosphere.
Then, the air rises with the thunderstorms updrafts, causing the horizontal rotation to become vertical.
Finally, the lower cloud base becomes a wall cloud and a tornado forms. The area of rotation can be from 1 to 6 miles wide, wreaking an incredible path of destruction that can leave a house completely undamaged on one side of the street while completely destroying the house on the other.
Tornadoes carry out a particular lifecycle once they have formed. First, the rotating air (called the mesocyclone) starts moving toward the ground with the rear flank downdraft. Then, a small funnel builds at the lowest part of the wall cloud. When the rear flank downdraft hits the ground, the tornado becomes visible as it lifts dirt and debris. This is the point at which the funnel touches the ground and a tornado is officially formed.
The path of the tornado at this point depends on the rear flank downdraft. If it runs out of warm air, the tornado dies. This is why the most violent tornadoes occur with the most extreme temperature differences between cold and warm fronts.
Where Do Tornadoes Occur Most Often?
Tornadoes have occurred on literally every continent except for Antarctica. When studying how do tornadoes form, it is best to look at the latitudes between 30 degrees and 50 degrees in both hemispheres. This is where clashes between cold and warm fronts are most likely to take place.
In the U.S.A.
The United States is the tornado's favorite stomping ground, with more than 1,200 occurrences a year. Most take place in the infamous tornado alley, which stretches throughout the central part of the nation in the Midwest. In contrast, Canada only sees roughly 100 tornadoes in a given year.
Of the Midwestern states, Texas and Oklahoma suffer the largest number of tornado outbreaks, with some areas averaging 9 or more tornadoes per 10,000 square miles per year. Florida, Indiana and Nebraska run a close second with 7 tornadoes per square mile per year. All of the states in tornado alley can expect at least three major tornadoes per 10,000 square miles per year, so most residents take precautions such as building specialize underground storm shelters or reinforced basements to shelter from the damaging winds and debris.
In states where basements are impractical because of extreme fluctuations in temperature, humidity and soil composition, tornado shelters usually consist of "hidey holes." These shelters shallowly buried outside, close to the back door and are only large enough to provide short-term refuge for a family of four. They are usually made of plastic or metal and provide very secure protection from even F5 tornadoes for the duration of the storm.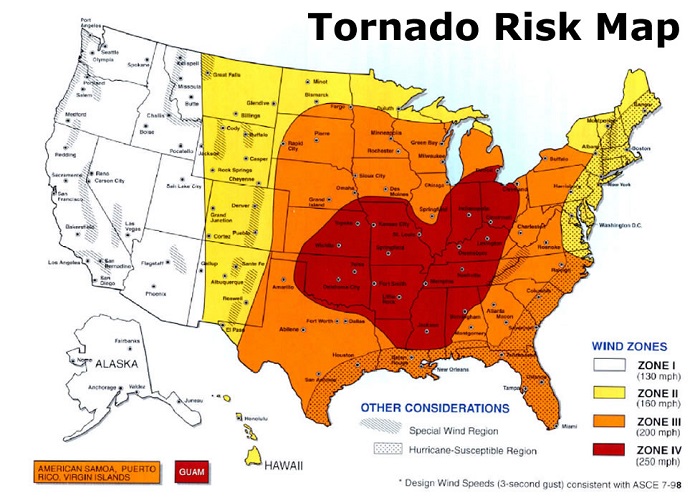 Worldwide
Tornadoes are a rare occurrence in the rest of the world. New Zealand only sees roughly 20 or 30 in a year. Europe, Argentina, Africa, Australia, China, Japan, Bangladesh, Nepal and the Philippines all experience tornadoes, but they are a rare event compared to frequency in the United States Midwest.
It is highly recommended that any person who lives in a tornado prone area have underground protection from these storms. If no underground protection is available, the next best option is a bathtub with a mattress for protective covering. Failing that, the interior room of a building will have to do. Never try to weather a tornado in a car. The force of a direct tornado hit to a car can be equivalent to a 200 MPH crash. It is best to exit the vehicle and find a shallow ditch to wait out the storm.