Tsunamis are devastating phenomena that have the potential to ravage any coastline. The phenomenon also referred to as a seismic sea wave typically occurs as a series of large waves resulting from a disturbance emanating from beneath the ocean. The disturbance could occur due to an earthquake, meteorite, volcanic eruption, or landslide. Often, if a major earthquake or landslide happens close to the shore, the initial wave gets to the beach in minutes. Further, a tsunami can take hours to subside.
In most cases, tsunamis come onshore in the form of rapidly rising gushes of water filled with debris. While it is true that not all tsunamis cause damage to coastlines, it is important to note that all tsunamis have the potential cause danger. Frequently, the main cause of fatalities associated with tsunamis is drowning. Other forms of danger include risks associated with flooding, fire from ruptured gas lines, or contamination of drinking water. This article delves into knowledge on what to do in case of tsunami.
Before the Tsunami
Learning About the Risk of Tsunamis in an Area
It is crucial to contact the local emergency agency or Red Cross in a specific area to identify the regions that are most susceptible to tsunamis. Essentially, one should ascertain the vulnerable motels, workplaces, hotels, schools, campsites, or homes. Additionally, it is crucial to find out the height above sea level of the street one is located, and the approximate distance from the coast, to stay prepared for any eventuality.
Learning the Signs and Paying Attention to Warnings
While communication lines may offer a lifeline to save lives during emergencies, telephone lines tend to become overloaded during tsunamis. Further, evacuation routes may become overcrowded and one may not know what to do in case of tsunami. Consequently, it is critical to understand the warning systems, as well as disaster plans in place during an evacuation.
The first and most important warning sign is shaking or tremors caused by an earthquake. After shaking, it typically takes minutes before a tsunami arrives. Waiting for an official warning is oftentimes risky. Subsequently, it is crucial to access higher ground and to stay alert to warnings from the local radio or television.
Tsunami warnings are issued when tsunamis have the potential to cause widespread damage. The warnings are issued to alert emergency agencies to evacuate low-lying coastal regions and usually follow seismic related information. Following such warnings, some of the beaches may be closed and ships may be repositioned in deep waters. It is critical to pay attention to local radio channels to be up-to-date on any warnings. In tourist areas, some beaches may have sirens and such signs serve as warnings to evacuate.
Developing an Evacuation Plan
Being prepared is part of the safety when dealing with tsunamis. Planning an evacuation route from one's location to a safe location ahead of time is advisable. Ideally, one should plan to escape two miles inland or to an area located 100 feet above sea level. Further, the safe area should take one at least fifteen minutes to arrive on foot; because in some cases, traveling by car can be impossible.
In addition, familiarity saves lives; practicing to get the safe location through the chosen evacuation route both day and night can make it easier to react quickly in case of emergencies. Also, it is vital to communicate with every member of the household on the possible actions to take if a tsunami occurs. Also, one of the crucial tools to use when preparing for what to do in case of tsunami is an emergency kit for both family members and pets.
During a Tsunami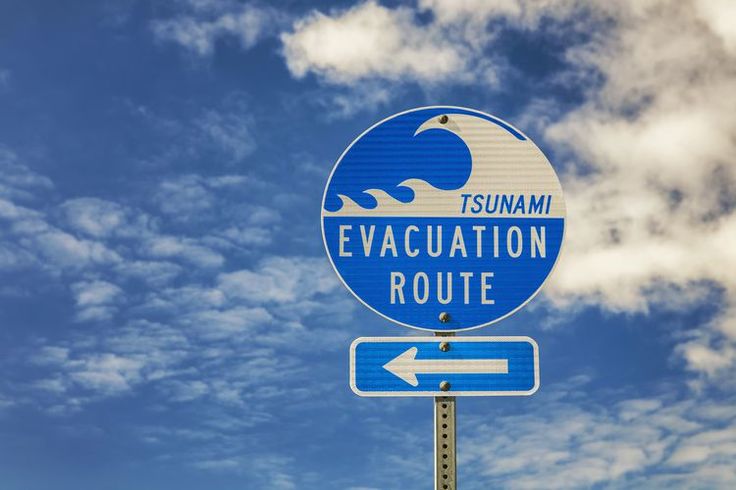 Taking Cover
As previously mentioned, earthquakes may be among the first warning signs of a tsunami. During an earthquake, the first action should be to drop and take cover. Next, it is advisable to hold on to a firmly rooted object. After the shaking subsides, the members of the household should be ready to evacuate at a moment's notice because the tsunami may take minutes to get to the shoreline. Research shows that it is not wise to approach the shore to watch the tsunami. Typically, if one can see the tsunami waves, it could probably be too late to make an escape.
Listen to Authorities
It is imperative to follow instructions that may have been issued by the local emergency agencies and official weather radio such as the National Oceanic and Atmospheric Administration. In some cases, evacuation routes change or one may be advised to go to higher ground than expected. Local officials also give information on when it is safe to move around. It is perilous to drive anywhere before rescue officials give the go ahead.
Staying Away From Hazards
It is highly likely that one could encounter various hazards and wonder what to do in case of tsunami. For example, some power lines may have fallen and pose high risks. Also, some buildings or bridges may be weakened; which is yet another form of danger. The cold water may also present health risks such as hypothermia or even result in drowning incidents caused by running water.
It is only logical to stay away from water and keep warm. Also, tsunamis occur in waves; it is possible that the subsequent waves may be more dangerous than the initial waves. Therefore, assuming that the danger is over can expose one to further risks.
After the Tsunami
Stay Alert to News
It is recommended that one continues listening to the radio or other reliable sources of information for news on the tsunami. Such information is crucial because it gives an idea about the roads, bridges, or places that may be unsafe. Residual effects such as mudflows, contaminated water, and landslides present danger. Avoiding disaster areas is not only safer, but it is also important because it prevents people from interfering with rescue efforts.
Offer Help Where Needed
Following a tsunami, one should be helpful to other victims who may be hurt. Essentially, it is advisable to provide first aid if one has the skills, and also call for help from emergency responders. The elderly, infants, disabled, or those without means of transport may need help in such situations. Also, paying attention to how others are handling stress is vital because they may need moral support.
Re-Entering Buildings
Tsunamis cause damage to areas least expected. Observing caution when re-entering buildings is vital. Injuries on the feet arising from sharp objects are a common occurrence. Therefore, sturdy shoes are a must-have after a tsunami. When examining buildings, it is preferable to use battery powered lanterns as they are sage. Battery powered lanterns are void of fire hazards or electric shocks.
Gas leaks can also be detected by listening to hissing noises. Further, electrical systems can be turned off from the main fuse box until the entire system is fully dry. Other dangers may lurk due to animals such as poisonous snakes. Flood waters from tsunamis tend to displace animals from their habitats and such animals may end up in homes.
The Bottom Line
In conclusion, getting through a tsunami is all about preparedness. Having accurate information can be beneficial for people wondering what to do in case of tsunami.
Before a tsunami, having comprehensive information is an important step in saving lives. During a tsunami, fast reaction times and having the essential tools is also critical. After the tsunami, it is vital to offer help where it is needed and to also to observe caution when re-entering buildings. Evidently, it is possible to mitigate the possible damage or loss of lives following a tsunami.